Jeremy's Hot Deals of 12-10-08
1. Cables Unlimited
Ziplinq Deluxe USB & Gigabit Road Warrior Kit $10.99AR Free Shipping
Buy.com
has the Cables Unlimited Ziplinq Deluxe USB 2.0 and Gigabit Retractable Road Warrior Kit for a low $10.99 after rebate. Free Shipping. Tax in CA, MA, NY, TN.
This kit includes:
1 x Mini Optical Mouse, 1 x USB Light
1 x USB A to Mini Cable, 1 x Retractable USB 2.0 Extension Cable
3 x USB Adapters, 1 x 48" Ziplinq Retractable Stereo Earbud with Microphone
1 x Cat5e Patch Cable, 1 x Cat5e Crossover Adapter
$11
Rebate
Exp 12/21/08
2. G.Skill 4GB
(2x2GB) DDR2-800MHz PC2-6400 Desktop Memory $34.99 w/ Coupon, Free Ship
Newegg
has the G.Skill 4GB (2 x 2GB) DDR2 800 PC2 6400 Dual Channel Desktop Memory Kit for a low $34.99 after $5 off Coupon Code: EMCBCAECE (Exp Soon). Free Shipping. Tax in CA, NJ, PR, TN.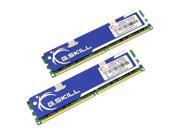 Ok, thats it for now

_________________
Mobile/Gamer - P6831fx with t9300
HTPC - 4200x2, hd3450, LG Bluy-Ray/HD-DVDrom, Seagate 500gb
School - q9550, 4gb 1066, 250gb wd, 700w Mach1, hd4830